So Cathy is off school for two weeks so today we decided that since it was raining, we were going to go scrapbook shopping. I know, I know. I don't need anything else to try to cram into my room, but it was raining. What else are we going to do? So we headed off to one of my favorite places,
The Scrapping Bug.
It's a great scrapbooking store. I love going there. She always has the best stuff. Kim, the owner, is the sweetest person and always has time to stop and chat. She has three boys the same age as mine so we always catch up with what the boys are doing. Misery likes company I guess. Go here to check out her layout gallery.
Kim's gallery.
I don't know how she finds time to create such amazing layouts on top of owning and running a successful store, and raising three boys.
Anyway, I was so flattered when Kim said that she checks my blog every so often just to see what I'm up to, so I gotta say hi. Hi Kim! ...and I just found her store's blog so I will be adding it to my links in my sidebar. No hiding now, Kim!
After hitting two different stores here's what I ended up with today. I'm supposed to be on a spending freeze. Ooops!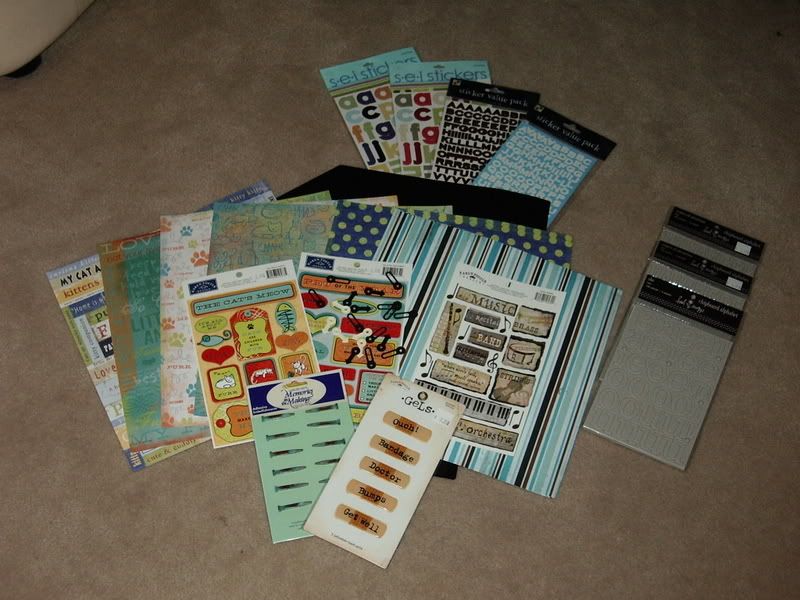 So, in honour of tomorrow's Thursday Thirteen, here's my list:
Thirteen Things that I bought while scrapbook shopping today



1…. black paper holder
2. sei letter stickers
3. other letter stickers
4. Heidi Swapp chip board letters
5. gel band aid stickers
6. metal nails
7. photo turns
8. cat cardstock stickers
9. band cardstock stickers
10. cat label paper
11. cat patterned paper
12. other patterned paper
13. a magazine (OK I'll admit that I didn't actually buy this, it was free, but I needed something for number 13.)

Links to other Thursday Thirteens!
1. (leave your link in comments, I'll add you here!)


Get the Thursday Thirteen code here!


The purpose of the meme is to get to know everyone who participates a little bit better every Thursday. Visiting fellow Thirteeners is encouraged! If you participate, leave the link to your Thirteen in others comments. It's easy, and fun! Be sure to update your Thirteen with links that are left for you, as well! I will link to everyone who participates and leaves a link to their 13 things. Trackbacks, pings, comment links accepted!

View More Thursday Thirteen Participants